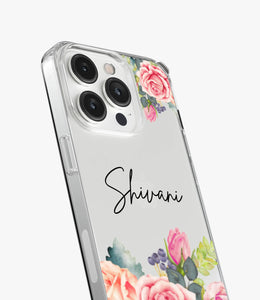 Gardenia Grace Custom Name Silicone Case
/count/ sold in last /time/ hours.
₹999.00
🎄 Christmas Discount: Buy 3 Cases, Pay for 2 - No Code Needed!
🎄 Christmas Discount: Buy 2 Cases, Get 15% OFF - Use Code: TCC15
🚚 Free Shipping: Available on All Orders
- Limited Stock | Ships out in 3-5 days.
☆ 1 year warranty – We've got you covered ☆

Our Promise - Our phone cases do NOT break easily, prints do NOT fade or peel off. We're totally comfortable that your phone case will serve its purpose, that's why every purchase you make is protected by 12 month warranty.
Introducing the Gardenia Grace Custom Name Silicone Transparent Case – Your Personalized Style Statement!
Elevate your smartphone protection game with our Gardenia Grace Custom Name Silicone Transparent Case. Crafted with care and precision, this case seamlessly combines style and functionality, offering you the perfect blend of aesthetics and protection for your device.
Key Features:
Personalized Perfection: Make a statement with your own touch of creativity! Add your name or a special message to this case, making it uniquely yours. Whether it's your name, a nickname, or a meaningful word, our customizable option allows you to express yourself like never before.
Durable Silicone: Our case is constructed from high-quality silicone material that not only feels soft to the touch but also provides excellent protection against everyday wear and tear. It's designed to withstand drops, impacts, and scratches, ensuring your phone remains safe and sound.

Crystal Clear Transparency: Don't hide the beauty of your device! The transparent design of this case lets your phone's original color and design shine through. It adds a layer of protection without sacrificing the aesthetics you love.

Slim and Lightweight: We understand the importance of maintaining your phone's sleek profile. This case is ultra-slim and lightweight, preserving the slimness of your device while offering the protection it deserves.

Easy Access: Precise cutouts ensure that you have full access to all your device's ports, buttons, and features without the need to remove the case. Say goodbye to inconveniences!

Wireless Charging Compatible: Our case is designed to support wireless charging, so you can conveniently power up your device without the hassle of removing the case.

Enhanced Grip: The silicone material not only offers protection but also provides a secure grip, reducing the chances of accidental slips.

The Gardenia Grace Custom Name Silicone Transparent Case is more than just a phone case; it's an extension of your personality and style. Whether you're treating yourself or looking for a thoughtful gift, this case is the perfect choice.
Upgrade your smartphone experience today with the Gardenia Grace Custom Name Silicone Transparent Case. Embrace style, protection, and personalization like never before. Make it yours today!
Hey there, awesome peeps! 🌟 Got some super cool details about our shipping and returns policy! 📦🚀
So, when you place an order with us, we're on top of it! 🎉 It usually gets shipped within 2-3 business days, but remember, life's full of surprises, and sometimes, things might change due to some external or internal vibes. 😅
Oh, and guess what? Shipping charges? Nah, fam, not here! 🙅‍♀️ We're all about spreading the love with Free Shipping on ALL orders! 💌💕
Now, returns! 🔄 We've got your back, fam! No stressin' 'cause we offer hassle-free returns for a whole 7 days! 😎 So if you're not feelin' it, no worries, just hit us up and we'll sort it out!
For more juicy deets, check out our Shipping Policy Page and Return and Exchange Policy page. 📖🔍 We've got everything laid out so you can stay in the loop!
Stay rad and shop on! 🛍️💫
NOTE: This case is part of our print-to-order range. With print-to-order phone cases we print them as you purchase, which is a much more sustainable method of production – ultimately meaning we waste less plastic because less plastic is fantastic 😉
Loved it!
Awesome case from the case company.
Loved it!
Liked the product quality
Liked the product quality, finishing. I ordered customized cases from 3 different websites and the one from this website stands out. Little improvements needed on the website.
fits perfectly
Crazy product🔥, finishing is top notch, fits perfectly and the in had feel is very smooth n cool.
Really loved the print quality
Really loved the print quality and the glass top finishing of the product. It feels very light and secured. Have been getting a lot of compliments on the design.